BLOG #2 | What should you ask lenders...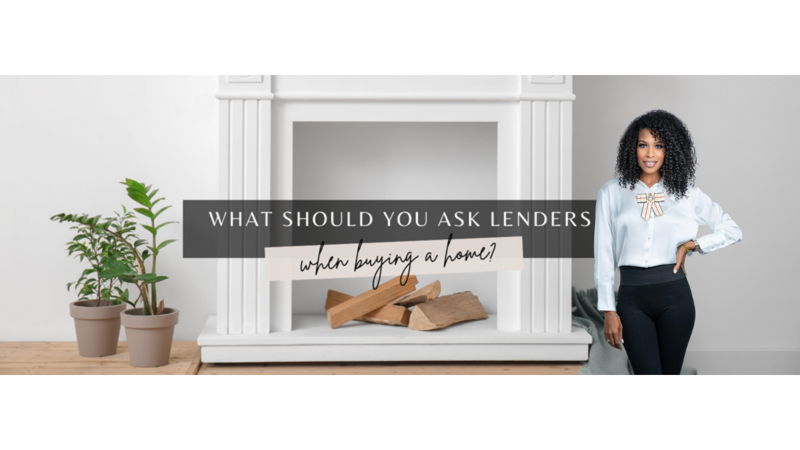 What Should you Ask Lenders When Buying a Home?
Buying a home requires more than finding the perfect home.
First, you need financing, or you won't be able to buy the home. Lenders have specific requirements when considering buying a home, so knowing what questions you should ask them is important.
How Much do I Need for a Down Payment?
Your down payment depends on the loan program you choose. For example, VA loans don't require a down payment, but FHA loans require a 3.5% down. Conventional loans require 5% down in most cases, and if you put down less than 20%, you'll pay Private Mortgage Insurance.
Discuss your down payment options and how much you should put down to get the best rate and terms on your loan.
What's the Best Interest Rate I can Get?
Interest rates are much higher this year than last, so you should talk to your lender about how you can lower your rates.
They'll look at your qualifying factors and tell you what you can improve to ensure you get a lower rate. You can also ask about the possibility of buying the rate down (paying points) to lower the interest rate to keep it even lower.
When Should I Lock my Interest Rate?
You must lock your interest rate before closing on the loan, but your loan officer can tell you the best time to do it. Most rate locks are free for 30 days, but if you must lock it for longer, it might cost you.
It's best to lock your rate after you sign a purchase contract, so you have a better chance of closing on the loan before it expires, but always ask your lender when it's the best time to lock.
How Much are Closing Costs?
You'll need more than the down payment to close on your loan. You'll also pay closing costs. Most lenders charge 3% - 5% of the loan amount in closing costs. Ask your lender what the total cost of the loan is so you can budget accordingly.
Some loans allow you to wrap some closing costs into it if you don't have the funds upfront. If you're worried about affording the closing costs, talk to your lender about your options.
Final Thoughts
Knowing what to ask lenders before you buy a home is important. Mortgage financing is one of the most important aspects of buying a home. Without a mortgage, you'd need cash to buy a home, and most people don't have enough cash for a purchase of that size.
It's a good idea to get quotes from at least three lenders and to get to know their process. No two lenders offer the same rates and terms or have the same process. You might find one lender has an easier process and better rates than another, which can mean a difference of thousands of dollars!