BLOG #1 | Is the Shifting Market Bad for Buyers?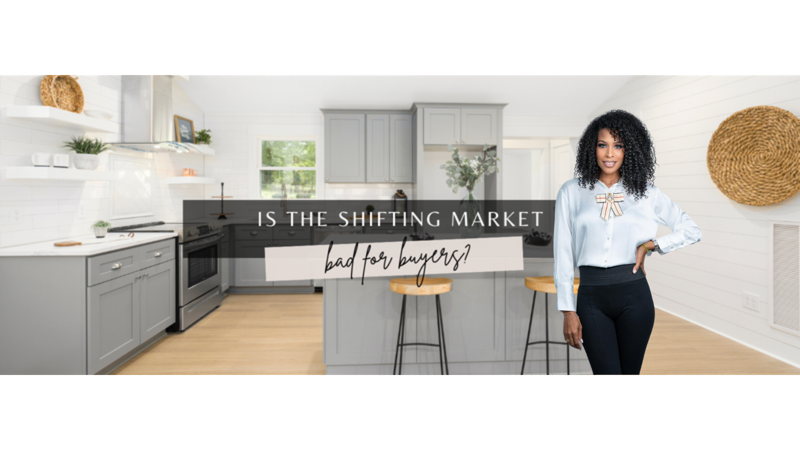 Is the Shifting Market Bad for Buyers?
For quite a while, we were in a seller's market. All sellers had the upper hand; most sold their homes for more than they listed. Fast forward to today, and that's no longer the case. Home inventories have fallen, and interest rates have skyrocketed. So is this good news or bad news for buyers? For now, it's suitable for buyers – here's why.
Less Demand
First and foremost, there's much less demand. Last year, you couldn't wait more than a day or two to see home once it was listed or under contract. It was under contract for much more than it was listed for, and buyers were waiving appraisal contingencies. Today, that's not the case. There are not as many buyers in the market because of the higher interest rates, so buyers have much more opportunity to look at more homes and bid what they want on a home, not what other buyers are pushing them to bid.
Reasonable Sellers
The selling craze of last year made sellers go crazy. They weren't accepting offers even a penny below their asking price, and most were holding out for the highest bid above their asking price. It makes sense why they'd do it, but it's not fair to buyers who invest in these homes, spending more than the house may be worth in a few months. Today's market has much more reasonable sellers willing to negotiate prices and allow you to pay a fair price for the home. You also don't have to feel pressured to waive the appraisal contingency.
Tougher Affordability
One aspect of the shifting market that can be a challenge for buyers is mortgage rates. They're at the highest in decades, with current rates hitting over 6%. This could price many buyers out of the market. The good news is you can shop around to get the most competitive rates, and you may even control your speed by perfecting your qualifying factors. Before you apply for a loan, check your credit score and fix any issues you find. Stabilize your income and make sure you have a decent down payment. Don't show up with the bare minimum requirements. Instead, show lenders you are a reasonable risk and are serious about buying a home in today's market.
Final Thoughts
The market is shifting, but that's not always a bad thing. Buyers couldn't continue paying overinflated home prices and not expect the bubble to burst. With things settling down, prices will decrease, and buyers will have more options. Sellers may wait longer for their homes to sell, but everything won't feel like such a frenzy. Instead, it will feel like a more relaxed process where everyone can get what they want from the real estate transaction. If you're ready to look at the homes on the market, contact me today, and let me help you find the perfect home.